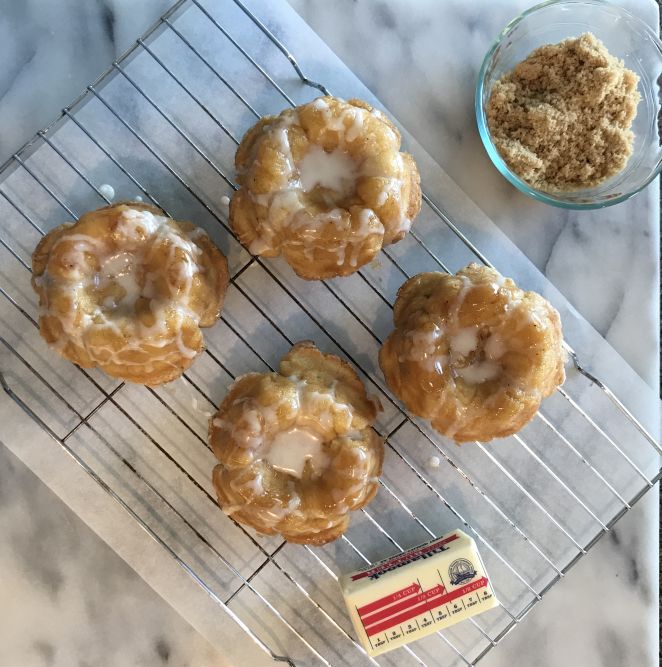 Brunch talk has our hosts thinking about sourdough and...baked beans? Andrea's baffled by the cover recipe from Watrose's March Food Magazine, which leads the hosts to wonder what makes a sausage roll a sausage roll. Deep thoughts, indeed.
Both hosts agreead that this week's recipe Homemade Monkey Bread from Sally's Baking Addiction was fantastic and a real showstopper. Andrea used mini bundts, and Stefin ran into a slight challenge with her risen dough, but this deicious recipe still got two thumbs up for Pull Apart Cinnamon Rolls (Andrea's preferred recipe title)!
This week's bake along is not one but two recipes from our hosts: No-Knead Cast Iron Bread from Andrea and White Yeast Bread from Stefin. You can read the fascinating origin story about the No-Knead bread from Mark Bittman's article No-Knead Bread, Ten Years Later. Stefin's White Yeast Bread from Rachel Allen is a great option is you love to knead, so set your timer for ten minutes and enjoy the therapuetic benefits of getting your hands in the dough!
Next up, Preheated Book Club! Sourdough by Robin Sloane was an enjoyable book for both our hosts, mainly becuase it talked about bread baking as a way of building community, which is exactly why our hosts started the Preheated podcast.
A few other baking or bread related books listeners may enjoy: Bread Alone by Judith Robin Hendricks and Two for the Dough by Janet Evanovich. Warning: bread reference is in title only on that one.
Listeners, we'd love your bread related (fiction or non-fiction) book recommendations!

You can read the show notes here.
Bake along with Stefin and Andrea in their baking Facebook group, Preheated. You can find links to recipes on their baking website www.preheatedpodcast.com, as well as on their Pinterest page. You can also follow the hosts on Twitter and Instagram, using handle preheatedpod. Join the fun!