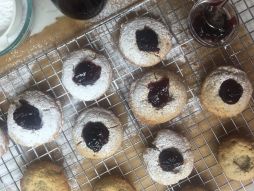 Check out the hosts newest resource on Quarantine Baking and let them know what topics you need them to cover. This week's review of Buckwheat Thumbprints from Alice Medrich gets two thumbs up from the hosts, who loved these gluten-free, eggless cookies. Finally, the coveted Blue Ribbon for March is awarded to the flour dessert our hosts just can't stop thinking about.
Listeners, our thoughts are with you and your families and loved ones. We hope our show provides a bit of respite when you need it most. Be well, and thanks for listening!
You can read the full show notes here.
Bake along with Stefin and Andrea in their baking Facebook group, Preheated Baking Podcast Listeners. You can find links to recipes on their baking website www.preheatedpodcast.com, or follow the hosts on Twitter and Instagram, using handle preheatedpod.
Listeners, you can always leave the hosts a voice mail at (802) 276-0788. 
Join the fun!