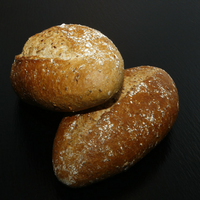 Bread bakers unite! The listeners have spoken and we've selected Bread for our March theme. We're starting off with a No Knead Peasant Bread by Alexandra Stafford, coined "the bread that broke the Internet." Some essential tools and tricks both Stefin and Andrea use include a plastic bench scraper, rising dough in the oven with the oven light turned on or a cup of boiling water to get the temperature up, and a proofing basket for a traditional beehive shape.
In the latest Cooking with Class segment Andrea reports back from the Galette de Rois class at The Bakehouse in New Orleans, taught by the acclaimed cookbook author and food blogger Joy the Baker. Joy demonstrated the methods to make this traditional king cake, and Andrea especially enjoyed how relaxed and non-intimidating Joy is. Joy also introduced the class to Old New Orleans Cajun Spice Rum, which Andrea loved so much she dragged her parents to the distillery to purchase some to bring back home to Washington.
Book lovers, join us in March with our Preheated Book Club. We're reading Sourdough by Robin Sloane and we hope you'll read along with us.
You can read the Show Notes here.
Bake along with Stefin and Andrea in their baking Facebook group, Preheated. You can find links to recipes on their baking website www.preheatedpodcast.com, as well as on their Pinterest page. You can also follow the hosts on Twitter and Instagram, using handle preheatedpod. Join the fun!