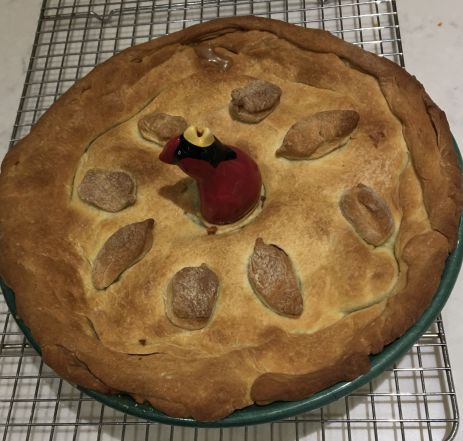 Andrea is reporting back from the Cascadia Grains Conference and is excited about being part of the movement to revitalize the grain economy in the Pacific NW, and bake Whole Grain Digestive Biscuits.
Our hosts review the Pork, Apple and Cider Pie from Paul Hollywood's Pies and Puds cookbook. Andrea and Stefin had equal success, and both hosts agree that a side of mashed potatoes are absolutely essential for the delicious gravy that comes naturally with this pie.
Up next is Alton Brown's Shoo-Fly Pie, another pie from the popular 'desperation pie' or 'pantry pie' category. Be sure to read the instructions carefully on this one (or make it easy on yourself and use February's sponsor Pie Provisions Pie Crust mix!)
To wrap up this week's episode of Pie School, the hosts share their essential pie tools, including a pastry wheel, a tapered rolling pin, and, finally, a PieBox!
You can read the Show Notes here.
Bake along with Stefin and Andrea in their baking Facebook group, Preheated. You can find links to recipes on their baking website www.preheatedpodcast.com, as well as on their Pinterest page. You can also follow the hosts on Twitter and Instagram, using handle preheatedpod. Join the fun!